Dana 60/70 Diff Cover - ARB Red
arb dana 60 diff cover, arb dana 60, arb, dana 60 diff cover, 0750001, dana 60, dana, 60, diff cover, diff, cover, axle, differential cover, rock, off-road, high pinion, pinion, gears, competition, gm, chevy, gmc, ford, jeep, lincoln, toyota, service, rep
ARB® #0750001 Diff Cover Features
The ARB Dana 60 diff cover is engineered to protect your ARB air locking differential. Made of high tensile, solid nodular iron, and powder coated red. This ARB Dana 60 differential axle cover is seriously off-road and rock competition ready and will provide the highest protection possible for your ARB Air Lockers.
Heat Treated 100% Ductile Australian Steel Casting for Strength
Provide extra differential oil volume to keep gears cooler for longer axle life
Reinforced ribbed design helps dissipate heat and provides rigidity and extra protection
Fully CNC machined gasket surfaces and bolt seats. Seals properly for NO leaks
Uses standard diff seals that are available at any Auto Parts store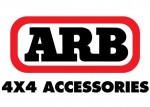 Description
ARB #0750001 - Dana 60 Axle Differential Cover
ARB® Differential Covers - Competition/Off-Road/Rock Climbing»
Details
DC:D60-ARB

DC:D60-ARB
New
Shipping Information
Item Requires Shipping
15.0 lbs.
---