East Coast Gear Supply -
Fluids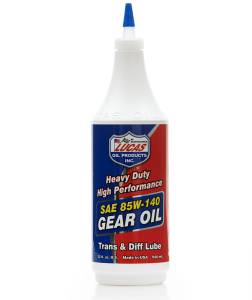 We only use high quality gear oils. Here you can find ECGS recommended Lucas non-synthetic 85W-140 and other products that we use in order to correctly set up differentials and make them last!
Browse Fluids
Products
limited,limited slip,posi,additive,friction modifier,friction,oil,OIL-POSI-ADD,OIL-POSI,43161
Description:
Dana Spicer Limited Slip Additive and Friction Modifier
Item #:
OIL-ADDITIVE-POSI
Toyota 8 inch rearend rear end axle differential tools,THREADLOCKER,High Temp High Strength Thread Locker- RED
Description:
This threadlocker is perfect for ring gear bolts and pinion nuts. It is also good for anything you do not want to back out. This is a 6ml bottle, convenient for someone who does a couple of differentials.
oil, lucas, 85w140, 85, 140, 85140, 85w, w140, non, nonsynthetic, non-sythetic, gear, gear oil, fluid, diff fluid
Description:
Gear oils have needed improving for years, especially in the hi-performance industry. The Lucas 85W-140 gear oil enjoys the technology Lucas developed in making the "Lucas Heavy Duty Oil...
More Details »
Item #:
OIL-85W-140-LUCAS
---