East Coast Gear Supply -
ARB Air Lockers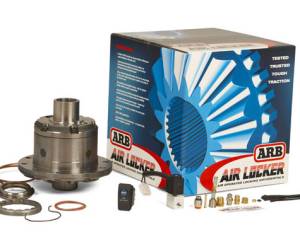 ARB Air Lockers are locking differentials that allow you to tackle the toughest terrain. The world's best traction aid, your ARB Air Lockers will keep you moving in all conditions.
ARB has been challenging conventional thinking on off road equipment designs for over 30 years, and the ARB Air Locker has been a success from the very beginning. Created to provide 100% traction on demand, without sacrificing any of your vehicle's highway driving performance, ARB Air Lockers employ a 12 volt air compressor designed to activate (and deactivate) a solid and durable locking mechanism inside the differential. This gives you the traction you need, when you need it, all at the flick of a switch, all within the safety and comfort of the driver's seat. ECGS offers these popular air lockers for the following vehicles AMC, Chrysler, Dana, Ford, General Motors, Hummer, Isuzu, Land Cruiser, Mitsubishi, Nissan, Range Rover, Suzuki and Toyota.

Select a Sub-Category
ARB Air Lockers
Featured Products
---
---
More About
ARB Air Lockers
The ARB Air Locker Solution
ARB Air Lockers are currently available in over 100 configurations to suit a wide range of off-road and 4x4 vehicles from around the world. Because the ARB Air Locker is only engaged when needed, it can be installed in BOTH the front axle and rear axle, with separate switches independently controlling the air locker from within your off-road truck or vehicle.
The advantage of the ARB Air Locker lies in the pneumatically operated locking system inside the differential. When activated, the Air Locker prevents the differential gears from rotating and therefore prevents the axle shafts from turning independently of each other. With both wheels tied directly to the rotation of the ring gear the vehicle maintains maximum possible traction at all times. When unlocked, it operates just like conventional "open" differentials.
Your ARB Air Locker installation should be performed by a qualified differential technician, although no special tools or skills are required apart from those necessary for fitting a standard differential. When installed with an ARB air compressor (high putput or mini), the locker system is supplied as a complete kit which contains all of the parts necessary for proper installation, including industrial grade control switches, air lines and fittings. ARB offers two compressor models suitable for Air Locker operation (high output compressor or mini compressor). A dedicated air activation system is available which is extremely durable and compact. Alternatively a larger compressor can be specified, which is also perfect for inflating tires, air mattresses and a host of other applications where compressed air is required.
Click for ARB Air Locker applications for North America/USA