East Coast Gear Supply -
LIFT KITS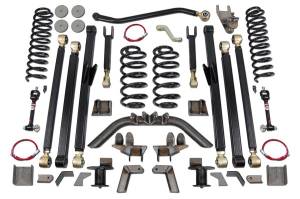 Jeep Lift Kits For your JK, TJ, YJ, WJ, ZJ, Wrangler, and CJ. There are many Options available for lift Kits we recomend purchasing quality the first time even if the cost is higher. The Kits we carry are what we feel to be the best kits on the market for you Jeep. They are designed for offorad use while still retaining good street manners. Most of the kits we sell come with a lifetime warranty on hard parts (see individual listings).
Select a Sub-Category
LIFT KITS
Featured Products
OME 2" LIFT TOYOTA TACOMA 1998-2004,LK-OME-TACO-KIT,OMETACO4
Description:
FRONT STOCK/LIGHT LOAD (0-110LBS) SPRING 1.75" 1 28801 NITROCHARGER SPORT STRUT 2 90004 HEAVY LOAD (110-220LBS) SPRING 1.75" 1 28811 NITROCHARGER SPORT STRUT 2 90004 REAR MEDIUM LOAD...
More Details »
OME,OLD MAN EMU,FJ,CRUISER,TOYOTA,LIFT KIT,LK:OME-FJ-KIT,OMEFJCLK
Description:
Front Light Load - Stock weight - No Bar or Winch Spring 2.0" 1 28841 Nitrocharger Sport Strut 2 90000 Heavy Load - with Bar & Winch only (70-180lbs) Spring 2.0" 1 28851 Nitrocharger Sport...
More Details »
---
---
More About
LIFT KITS
JEEP LIFT KITS