East Coast Gear Supply -
SUZUKI OFF ROAD SOLUTIONS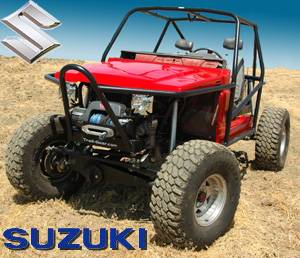 Select a Sub-Category
SUZUKI OFF ROAD SOLUTIONS
Featured Products
samurai,knuckle,rebuild,zuk,sammi,KNCKL-RB-SAMI-TG,KNCKL-RB-SAMI,KNCKL-RB,KNCKL,KNUCKLE,141003-3-KIT
Description:
Kit to completly rebuild Samurai front steering knuckles. Includes all needed bearings, races, seals and gaskets including rubber wipers and wheel bearings. One kit does both left and right knuckles.
zuk,sammi,samurai,leaf,spring,lift,SAMI-LEAF SPRING,110054-3-KIT,LEAF SPRING
Description:
High quality 3" lift springs for Suzuki Samurais. Available for front or rear applications, bushings not included.
zuk,wheel,spacer,jeep,samurai,samarai,wheel,spacers,SAMI WHEEL SPACER,141052-3-KIT,WHEEL SPACER
Description:
5x5.5 lug pattern wheel spacers for Suzuki Samurais. Available in different widths to fit your needs.
Item #:
SAMI WHEEL SPACER
---