East Coast Gear Supply -
Toyota FJ Cruiser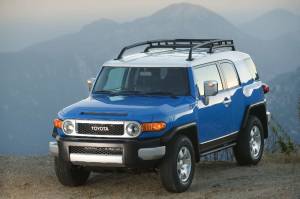 Off-Road Parts for the Toyota FJ Cruiser
Browse Toyota FJ Cruiser
Products
rock,slider,fj,cruiser,off,road,hard,core,sliders,FJ-ROCK SLIDER,120012-1-KIT
Description:
Fully welded rock sliders attach to factory mounting holes on '06-'08 FJ Cruisers. Extra strong design uses 1.75"x.120" wall tubing with gussets on all 4 attachment points. Powdercoated black
skid,plate,fj,cruiser,off,road,FJ SKID,120065-1-KIT,SKID
Description:
Heavy-Duty skid plate that protects factory transfer case and crossover pipe on FJ Cruisers. Skid is made from 3/16" plate and 1.5"x.120" tubing. Mounts using factory threaded holes in the frame; skid is powdercoated black
wheel,spacer,toyota,solid,axle,6,lug,off,road,aluminum,TOY SPACER,140004-1-KIT,Toyota Wheel Spacers
Description:
High quality aluminum wheel spacers for Toyota Pickups, 4Runners, FJ Cruisers, Tacomas and many others. Spacers are 6x5.5" lug pattern and are available in a variety of widths. Sold in pairs, includes lug nuts.
---