East Coast Gear Supply -
Toyota Tacoma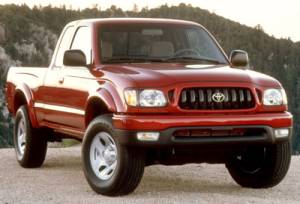 Hardcore Off-Road Parts for the '96-'04 Toyota Tacoma and 4Runner
Browse Toyota Tacoma
Products
tacoma,slider,rock,side,steps,step,off,road,TG-SLIDERS-TACO,120011-1-KIT,Tacoma Rock Sliders
Description:
Fully welded rock sliders for Toyota Tacomas. Sliders come unpainted with 4 gusseted legs on each side. We recommend welding sliders directly to the frame for maximum strength, but can be bolted....
More Details »
wheel,spacer,toyota,solid,axle,6,lug,off,road,aluminum,TOY SPACER,140004-1-KIT,Toyota Wheel Spacers
Description:
High quality aluminum wheel spacers for Toyota Pickups, 4Runners, FJ Cruisers, Tacomas and many others. Spacers are 6x5.5" lug pattern and are available in a variety of widths. Sold in pairs, includes lug nuts.
---