East Coast Gear Supply
»
CTM Racing
---
Browse Dana 60
Products

dana 44,u-joint,CTM's,C160-3757,d60-u-ctm-rbd,d60,ctm,rbd
Description:
Kit includes: 4 caps 4 snap rings 4 O-rings 4 zerk fittings. This is for ONE joint only!!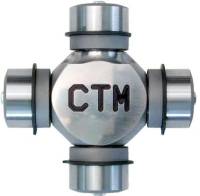 ctm dana 60 u-joint,dana 60,ctm,u-joint,c160-3750,dana,60,front axle,axle,dana 60,ctm racing,made in usa,lifetime,warranty,raleigh,durham,north carolina,nc,east coast gear supply,d60-u-ctm,d60,
Description:
This CTM Racing® Dana 60 u-joint (P/N #C160-3750) could be the last u-joint you ever have to buy! The rebuildable feature is unique in the fact that now as long as the cross or caps are intact...
More Details »