East Coast Gear Supply
»
Loctite
---
Browse Fluids
Products
Toyota 8 inch rearend rear end axle differential tools,THREADLOCKER,High Temp High Strength Thread Locker- RED
Description:
This threadlocker is perfect for ring gear bolts and pinion nuts. It is also good for anything you do not want to back out. This is a 10ml bottle, convienent for someone who does a couple of differentials.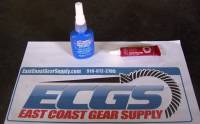 loose bearing,press,fit,rearend,rear end,axle,differential,tools,LOCTITE
Description:
This sleeve retainer is perfect for carrier bearings that are a loose fit or races that have a loose fit. Apply the compound to a clean and dry surface. It sets up in about 4 hours and permanetly...
More Details »