East Coast Gear Supply
»
Dana Spicer
---
Browse FORD
Products

F75Z-4947-AB, YPKF10.25-PC-L, clutch, 10.25, ford, f10.25, ford 10.25, trac, tracloc, clutches, steels, limited, limited slip, posi, F10.25-IPK-CP-L, IPKF10.25-PC-L
Description:
Ford 10.25 Trac Loc Positraction Clutch Pack. Fits Ford Case, 2 Pinion Design, 4.130" Clutch Outside Diameter Includes: Steel Clutches Steels Guides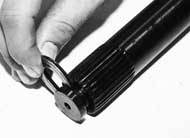 jeep axle shaft retainer ford 8.8 c clip,C-CLIP-010,DS 43221,CLIP,FORD 8.8
Description:
1 Ford 8.8 c-clip axle retainer Sold as individual units

Ford 8.8 to Jeep YJ,TJ,XJ,ZJ Adapter flange 1310 Ujoint- Wrangler,YOKE-F8.8-1310-FLANGE
Description:
Dana spicer OE adpater flange to mate the round flange Style Ford 8.8 axle to your Jeep TJ,YJ,XJ or ZJ 1310 Ujoint. Bolts are not included But can be added with drop down option. Bolts are not...
More Details »
Item #:
YOKE-F8.8-1310-FLANGE